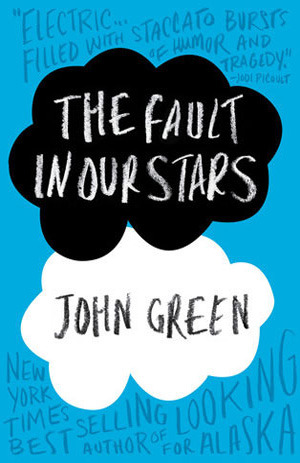 After months of
The Fault in Our Stars
being on the bestseller lists, I figured I should see what all the fuss was about. That was over a year ago, and it is still on the bestseller lists. If you have yet to read it, I recommend seeing for yourself what the big deal is. There are plenty of people who have read it and still wondered about all the stink, but I was not one of them. I absolutely loved this book. It is one of those stories that keeps you thinking about it long after it is over. I don't know if I would have had the same reaction if I had read it. You see, I listened to the audio version, and it was phenomenal. The voice actor did such a wonderful job of portraying the characters. I've been saving this book for June, which is audio month.
As far as audio books go, the reader definitely holds a lot of power as far as making a book wonderful or forever ruining it for the world. I have listened to plenty of books that I may have liked a lot better if I had read them myself instead. Sometimes it is simply the readers voice that bothers me. Other times it is their inability to do proper accents when appropriate. Whatever the reason, I have definitely come to appreciate the true talent that voice acting involves. Narrating an audio book is a lot more than merely reading it--Listen to Harry Potter and tell me anyone can do it. I dare you. I have listened to books that I love and been unable to even finish the audio version, forever grateful I read it first so as not to miss out on it. There are also plenty of audio books that I probably liked better than if I had read them myself. I have yet to read this book, for fear I will not like it as much, although I did purchase it with the intention of someday reading it.
I rarely give five star reviews on Goodreads, but this is one of those titles that made the cut. Like I said, the reader had me so absorbed in the story I hated to see it end. You'll definitely need a box of tissues on hand. All the main characters are cancer patients. When Hazel's mother makes her go to a cancer support group, she makes friends that will forever change her life, short as it may be. She knows she is terminal, but when she meets Augustus she truly begins to live. It is a story about love, friendship, loyalty, dreams and living your life to the fullest. If you have not yet read it, I highly recommend giving it a try. Better yet, listen to the audio version. The movie comes out on Friday, and I can't wait to see it. I hope I won't be disappointed. Since the previews make me cry, I may have to wait until it comes out on video so I can blubber in the privacy of my own home. Although, I will hardly be the only one reaching for a tissue. It is not a feel good book, but it will definitely make you feel. Happy reading/listening!