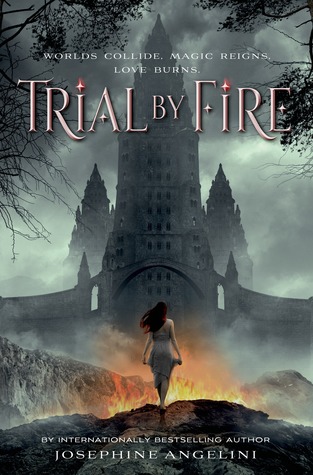 I was first drawn to
Trial By Fire
because I liked the author's first trilogy so much (
Starcrossed
). I didn't even know what it was about when I picked it up to read. That didn't matter though. The author has a way of drawing you into the story and hooking you from the very start. Full of action, there was never a dull moment.
This story follows Lily, a girl weak of body but strong of mind. She is practically allergic to the world. All she sees of her future is the eventual isolation in a plastic bubble. When her heart is broken, she succumbs to a voice in her head asking her to come with her. Before she knows what's happening, Lily is sucked into a world different from her own. This world is filled with magic. The version of herself that belongs in that world is the most powerful witch in all the Covens. All Lily wants is to go home, but Lillian has no intention of sending her back. Lily flees the Citadel and runs across Rowan, former lover, current enemy to Lillian. After some cajoling, Rowan begins to train Lily on how to use magic, for she has the same power Lillian possesses.
The question is, can she progress enough in her training before it is too late? Can she find her way back to her own world? Does she still want to go back? This book is filled with great characters. I just loved Lily. Despite being thrust into a foreign and scary world, she is able to persevere. She makes friends, learns to control her own power, and stands up for what she believes. She is the kind of character you can get behind and find yourself cheering on at every turn. Rowan is another character I really enjoyed. Powerful in his own right, Rowan is distrustful and hesitant to let another Lily into his life in any form. He is always on guard, but will ultimately do anything to protect Lily. The two make a great pair/team. I am definitely excited to see where their story goes. This is a strong start to another promising series from Josephine Angelini. I only wish I didn't have to wait so long for the next book. Happy reading!