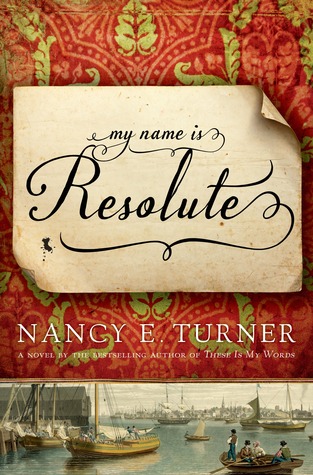 My Name is Resolute
came out in February, but I saved it to read up at my cabin this summer. The author's first book, These Is My Words, is one of my favorite books, so I was really excited about a new historical fiction from Nancy Turner. I met her a few months ago when she was on tour for this book and I really liked her. In my experience, meeting some authors can forever ruin my opinion of their work. When an author turns out to be a tool, I have no interest in reading their books. Conversely, there have been a lot of authors that weren't even on my radar until I met them. Some authors think that fame is enough to maintain and increase fans. For me, likability goes a long way. There are plenty of authors I have read, and liked, simply because I met them and liked them personally. It does take a bit of compatibility with subject matter for me to pick up a book, even if the author is a really nice and impressive human being (e.g. Nora Roberts).
I digress; after all, we are here to discuss My Name is Resolute. In my opinion, it isn't nearly as good as These Is My Words, but I still enjoyed it. My one major complaint was that it was simply too long. At times I felt like I would never finish it. Parts could have been cut out and still been as good.
The story follows Resolute Talbot from the age of eleven or so. While living in Jamaica on her family's plantation, she and her siblings are kidnapped by pirates. English privateers overtake the pirates. Their brother signs on with them, while Resolute and her sister, Patience, are sold into slavery in the New World. The sister's lives ultimately take different paths. Resolute learns how to weave, a trade that helps carry her through the rest of her life. After escaping, she is able to be self-sufficient in a time when women usually didn't take care of themselves. As she gets older, marries, has kids, etc. the skills she learned as a slave become the very skills that shape her place in history. We follow her through sickness, heartbreak, joy and danger as she makes a life for herself near Lexington, Massachusetts. As the Revolutionary War approaches, she finds herself in the heart of the underground Patriot movement. Constantly in danger, Resolute is surrounded by wanted men. Her brother is an infamous pirate/privateer, a thorn in the side of the English. Her husband is wanted for crimes from his childhood in Scotland. Her son is working along side top Patriot players like Paul Revere and John Hancock.
The book made me want to read up more on events leading up to the Revolutionary War. It was lots of fun to meet some of the famous historical figures from that time period and see them as youths. It is a time period I don't know much about and am very interested in studying. It has been a long time since I studied it in school and don't remember much of what I learned. The character of Resolute was interesting. I enjoyed following her life. Her brother, August, was lots of fun as well. Characters are what drove this book as much as the historical world it was set in. Over all, I really enjoyed it. If you are a fan of historical fiction and don't mind a long book, give this a try. Happy reading!