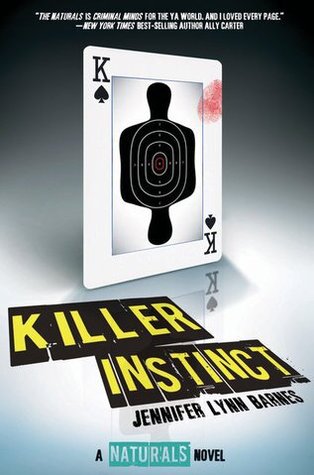 Killer Instinct
is the second book in the Naturals series. It is perfect for fans of
The Body Finder
series by Kimberly Derting. I am absolutely loving this series. This second installment (set to be released November 4, 2014) is just as good, maybe even better than the first one. The Naturals are a group of teenagers with highly developed skills that help the FBI solve cold cases. They keep getting dragged into active cases, which is what they prefer anyway. The FBI agent in charge of them wants them far away from danger, but they can't help but get involved.
The characters include Cassie, a profiler who can get inside the mind of anybody. Dean is also a profiler who developed his skill while being raised by one of the countries most notorious serial killers. Michael is an emotion reader. He can read even the slightest facial expression and know what anyone is feeling. Lia is a human lie detector. A born liar herself, she can discern even the slightest falsehood in others. Last but not least we have Sloane, a genius with a memory for facts and numbers and an eye for detail.
The kids all live in a house with Judd, a retired Marine, as their guardian. Together as a team they are pretty much unstoppable. The problem is they don't like to follow the rules, which often leads them into trouble and sometimes even danger. They are a very interesting and fun team. All of them have messed up childhoods, some of which we are still learning about. This book involves a serial killer, as does the first book. Despite specific instructions to stay far away from the case, the group can't help but get involved. This case has Dean's psycho father written all over it. They are forced to seek his help from his prison cell, and none of them will be the same once he is inside their heads.
This book is just awesome. I love a good murder mystery/psychological thriller and this book hit the spot for sure. I really enjoy the characters and can't wait to get to know them further. I am loving this series! The books are well written and well paced. I just want to keep reading to see who the killer is and whether my guess is correct. I guessed right in this one, but that didn't make me enjoy it any less. I'm now experiencing the down side of reading an advanced copy of a book. I have to wait even longer for the next one to come out. I'm definitely glad I found this series. It is well worth the wait. I highly recommend hit. Happy reading!