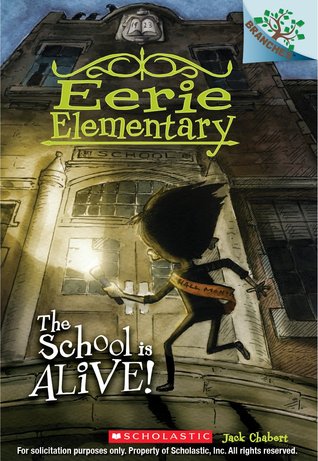 I received a PDF version of this book from the publisher. I'd heard about Scholastic's newish
Branches
line of books for emergent readers and wanted to give it a try. Eerie Elementary is a new series recently introduced.
The School is Alive!
is the first book (it comes out June 24th). This book is meant for kids who are ready to start chapter books, but who are not quite ready for a full beginning chapter book. I love this new Branches program. I think it is perfect to help readers reach that next level. I only wish they started this years ago. It may just save your reluctant reader. While this is not the only Branches book available, this is the one I am going to talk about. If it doesn't interest you, try out a different title for your new reader. They have lots of pictures to accompany the story. I guess you could compare this to Goosebumps in a way. It is not for the faint of heart or easily scared. After all, as the title suggests, the school is alive. When Sam Graves is named the new Hall Monitor, he is reluctant and even embarrassed to don the sash. He soon learns that his job is more than making sure kids go to class. It is up to him to save everyone from the school itself. You see, the school is hungry and Sam must use all his wits to keep the school from eating his friends. This is a very fun story. It introduces the school and Sam's new role as protector. I think it is a wonderful introduction to a promising new series. Book two, The Locker Ate Lucy! comes out later this summer. I'm definitely going to check out some other Branches titles and start reading them to my little girl. She isn't ready to read herself, but she is too young to sit still and pay attention to chapter books. Since basically every page has an illustration on it, I think this is the perfect gateway into exploring longer stories with her. Pick up a Branches book for your family today (and no, I have nothing to do with Scholastic and am not getting paid to endorse their program. I wish!). Happy reading!