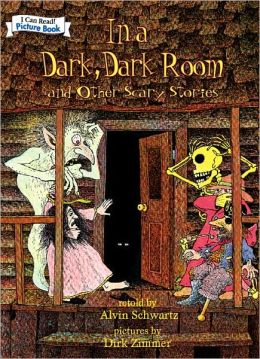 1.
In a Dark, Dark Room
is one of my favorite scary story collections from childhood. In this picture book edition you get fun illustrations to go along with all seven stories. My favorite is The Green Ribbon, but all the stories bring back memories from when I was young. Alvin Schwartz also has a three book collection of scary stories for young readers.
2. As a child some of my favorite monster related stories where by Mercer Mayer. Unfortunately, most of them are out of print.
There's Something There!
has There's a Nightmare in the Closet and both of its sequels (There's Something in My Attic and There's an Alligator Under My Bed). The illustrations and fun stories help children learn to not be afraid of "monsters" in the closet, under the bed and in the attic.
3. While the cartoon is always a must see each Halloween in my house, the picture book is definitely worth reading as well. This edition of
It's the Great Pumpkin, Charlie Brown
is my favorite. It is larger and therefore has better illustrations. I also like the lack of dust jacket, but without the shiny library bound look. It has a nice cloth cover with the wonderful cover art still in place. Whatever format you choose, this book is a fantastic addition to every Halloween collection.