As the holiday season is upon us, I am going to start commandeering Thursdays to gush about some of my favorite books. This week I chose three of my favorite picture books.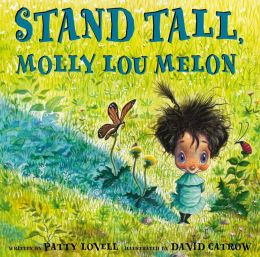 1.
Stand Tall, Molly Lou Melon
This book is so delightful. The illustrations are fabulous and the story is inspiring. Molly Lou Melon is a tiny, funny looking, clumsy little girl. Her grandmother gives her advise to live by that will turn her apparent weaknesses into strengths. When the school bully tries to make fun of her size, her teeth, her voice, etc., she stands tall. He is the one left looking and feeling like an idiot. By the end, the bully is asking to be her friend. It is so cute. If you haven't read this book, you need to take a look at it.
2.
Bark, George
This simply illustrated book is simply wonderful. All George's mom wants him to do is bark. Instead, every time he tries another animal sound comes out of him. Fed up and frustrated, she takes him to the vet to find out what is wrong with him. It turns out he has swallowed each of those animals. It isn't until the vet pulls each one out of George's mouth that he is finally able to bark. The victory is short lived. This book makes me laugh every time. His mother's facial expressions are the best.
3.
Children Make Terrible Pets
I just love this book. It is by the same author that illustrated
Creepy Carrots
. This backwards story follows Lucy, a little bear, who finds a little boy in the woods and takes him home to ask her mom, "Can I keep him?" She soon discovers that pets aren't all fun and games. They occasionally misbehave and aren't easy to train. When he disappears, she follows his trail through the woods, only to find him at home with his family. She is sad, but decides it is for the best. After all, children really do make terrible pets. The illustrations are adorable and you can't help but love Lucy.